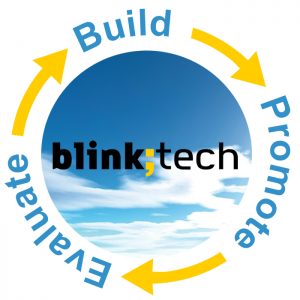 At Blink;Tech, we believe in the power of information sharing and that putting a bit of our knowledge, tips, and strategies out in the free market will expand not only our reach, but the reach of our clients. In that spirit, we created our Build-Promote-Evaluate business model and continue to find ways of sharing our process, whether it is in a blog, a book, or with a seminar. Recently, we held seminars to help fellow marketing leaders find their way around social media and make those coveted conversions. We also compiled some of our most popular blogs into a helpful guide, which you can download at the end of this blog. But first, let's discuss our seminars.
In July and October, we presented a two-part seminar covering social media basics and conversions, using our B-P-E model as the basis. Our social media basics seminar explained the importance of understanding who you and your business are, how building a structurally sound web presence (both website and social media) is essential, and that promotion can only work when the fundamentals are in place. Once those are set, we continue spinning the B-P-E wheel, evaluating how things are working and what needs to be adjusted in order to continue moving forward. Our conversions seminar, "Conversions are Key!", focused on how the B-P-E model continually optimizes your web presence for successful conversions. By using proper namespace, owning your data and conversion points, and having properly engineered web pages and social media promotion, your conversion rate will continue to rise.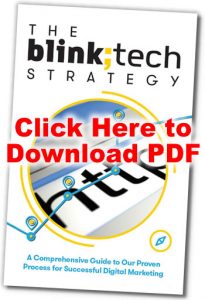 For as long as we have been around, we have posted blogs on the evolution of the web and social media. While we will never call ourselves "gurus" of anything, we do know the ins and outs of the tech world we all live and work in, so we feel quite comfortable in sharing the knowledge we've acquired. Though you could scroll through our blog history, we thought it would be much more efficient and easier for our users to find what they need in a book. In "The Blink;Tech Strategy", we not only cover the basics of website building, security and social media, but also how to evaluate your efforts – the full Build-Promote-Evaluate cycle.
As time rolls on, Blink;Tech will continue to evaluate our own platform and processes, making adjustments to our model as needed. We will also make sure to share these findings with our clients and friends, allowing them to join in on the successful strategies we uncover. Be sure to download your free ebook today, and make sure you're on the mailing list for any future seminars!