The Internet is all about content. Good content. Content is the most powerful tool out there to organically promote your web presence, build an audience, and generate business. Whether your project involves a blogging calendar or just help with your website and ad narrative, the Blink;Tech writing staff can produce content that excites and, most importantly, gets shared.
Dramatically increase website traffic
Make you an authority in your industry
Increase your social media influence
Help define your value to your potential client
Illustrate your leadership in the marketplace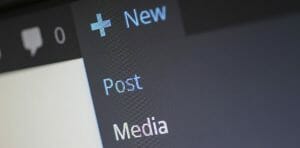 Blogging
An active blog is without a doubt the best way to drive traffic, build a following, and prove leadership in your industry. Our staff of professional bloggers and SEO experts can polish up content that you provide, or work with you or your staff to produce exciting, share-worthy blogs that express your authority and the value of what your business has to offer. The below screenshot from Google Analytics shows the tremendous growth in website traffic experienced by one of our small business clients. This was the result of careful research into keyword/keyphrase search volumes and a consistent program of publishing quality, authoritative blog content.

Video
Video is one of the most shareable mediums on social media and an excellent way to get your message across quickly and clearly. Top analysts of web traffic and user behavior currently estimate that between 70 and 75% of all Internet traffic is devoted to streaming and watching video. Some predict that number will rise up to as high as 90 percent in the very near future!
Are you leveraging the power of video for your business? It's more affordable than you may think. Learn more about our professional video production.
Music and Audio Production
Audio is an incredibly important component of today's media-oriented internet landscape. Whether you need voice over work, a catchy jingle for a video ad, or background music for a larger project, our talented staff, can help bring your audio needs to life. With professional backgrounds in symphony conducting, sound engineering, composition, and vocal performance, the Blink;Tech team has much to offer!
Graphics
Graphics are a powerful tool in Internet marketing. Whether it's your company logo, an infographic on your website, or a branded meme shared on social media, people respond to images. Remember; "A picture is worth a thousand words". Our graphic designers work hand-in-hand with our internet marketing and branding experts to make sure your graphics pop!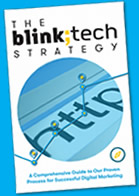 A COMPREHENSIVE GUIDE TO OUR PROVEN PROCESS FOR SUCCESSFUL DIGITAL MARKETING