So, you've built a Facebook page for your company. You've linked it to your website with a "Like" button. You even have a couple hundred "likes." You post status updates sporadically. Now what? Unfortunately, these days it's not enough to simply have a Facebook page — or even to collect "likes." People who "like" your page won't necessarily go back to it unless you give them reason to.
You already know your product or service. The fact alone that you offer it usually isn't enough to spark those valuable social media conversations that raise awareness, drive demand, and forget relationships with new customers. The key is to engage, converse, and share your expertise with your audience. To rock your followers' social media experience with you, and attract many new ones, our first tip is the building block of all others:
Create content relevant to your audience.
For example, one of our clients is a personal injury law firm that specializes in motorcycle accident cases. Based on two separate articles posted to the firm's blog and shared to Facebook, two important levels of Facebook engagement emerge.
The first article discussed a controversial topic. As you can see in the comment thread below, the topic fueled audience debate and discussion.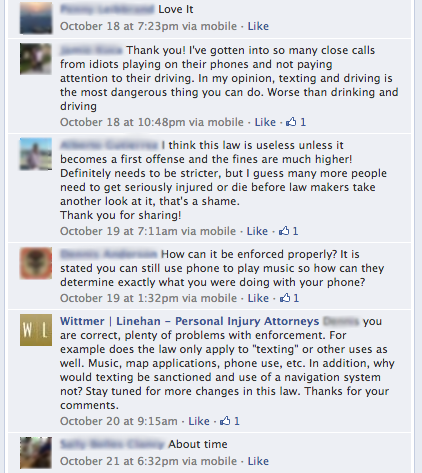 The second article provided valuable information for their audience members in the form of money-saving tips. Notice, below, the proliferation of "likes" and "shares" for this article.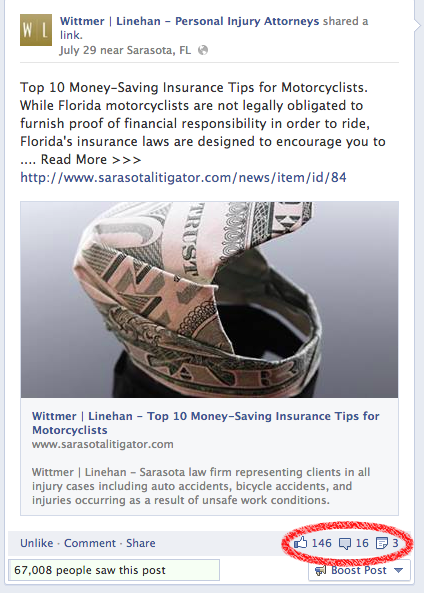 Both levels of engagement are imperative for a healthy Facebook community in which audience members count on you for interaction and information. Remember, Facebook is a social network. Don't make the mistake of thinking that a page can stand alone without relevant content.