Maintaining the online presence of a brick-and-mortar business is a lot of work. There's a website to keep updated, social media interactions to stay on top of, pay-per-click advertising to monitor, blog posts to be written, and maybe even an online store to run. With all there is to do, one of the most basic and critical aspects of Internet marketing for small businesses is often neglected: your business' Internet listings.
Occasionally Googling your business isn't enough. Search engines, social media platforms, mapping websites, and online business directories (such as Best of the Web, Yelp, Manta, and Superpages) rarely share business information. Once you start poking around, you might be a little shocked at the misinformation about your business that you begin to uncover. You may find old addresses and phone numbers, missing details about what you do or sell, bad links, or even an incorrect business name.
Once you start correcting inaccurate business listings, another thing you'll quickly learn is how much work it is and how long it takes. On most every site that features business listings, you will have to verify your ownership of the business. Sometimes this can be done with a phone call, but other times a verification card is sent via snail mail. In the photo below, the verification card we received from Yahoo! didn't even have the code printed on it. And it took almost a month to arrive!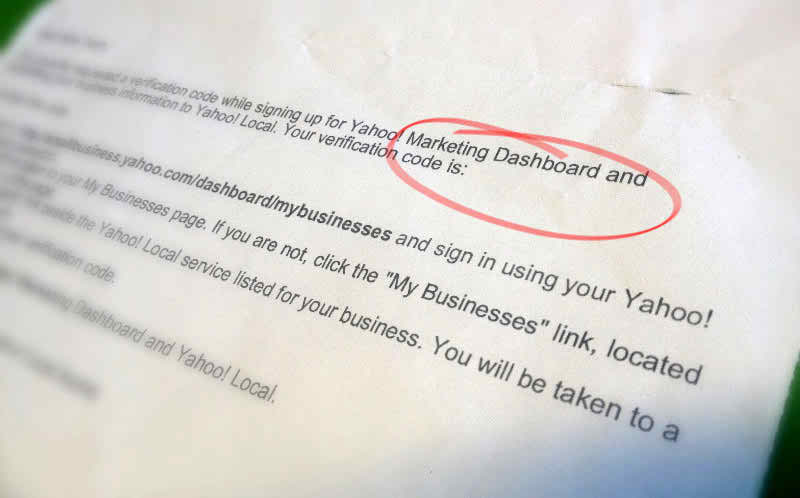 This can be a very tedious process, but it's worth every bit of effort you put into it. Remember, customers may be dialing the wrong phone number for your business — or even worse, driving to an old location. If left unfixed, that bad listing will continue to work against you and may even proliferate into other bad listings.
To help you face the mountain of work and frustration that you may be facing, we have seven tips to help you clean up all those bad listings once and for all.
Tip #1 – Be Consistent
The most important thing you can do before you get started is to establish the exact name, address, and phone number that you want to use for your business — and stick to it. Make sure this information is spelled and formatted exactly the same everywhere on the web. Be hypercritical of every listing and make corrections of even the most nitpicky things, such capitalization or even word spacing. Remember that often it won't be a human reading that listing, but rather a search engine bot. Inconsistency between two listings can be seen as two entirely different businesses.
Tip #2 – Select the Proper Categories
This isn't always as easy as it seems. Different websites offer different business categories. As mentioned above, try to be as consistent as you can and don't overreach to categories you don't specialize in. It could lead to more incorrect listings.
Tip #3 – Add Relevant Content Where Possible
If there is a space for a description, add one. This is your chance to make your business shine. Don't overdo it, however; be clear and concise, and use keywords that accurately reflect the nature of your business. If there is a place to add a photo or video, by all means do. People are more likely to check out your business if they can see some substance in your listing.
Tip #4 – Check Ratings and Reviews
While searching to determine if all your business listings are in order, you may run across ratings and reviews of your business. If you run across a bad review, follow up in a professional and courteous manner. A bad review can be completely mitigated if people who encounter that review see that the business owner actually tried to address the problem and showed concern for the customer's experience and feelings — even if in the end that customer was not happy.
Tip #5 – Document Your Listings
There are literally thousands of places on the web where your business could end up listed. It is not humanly possible to repair everything out there, but having a record of what has been fixed will keep you from redoing a lot of work unnecessarily. Make a spreadsheet of listings that you've fixed and mark when the listings were updated. It is also helpful to put a link to the listing. Should you have to go back and change them (for instance, in the event your business moves or you add a new service), it will be a simple click of the mouse to get there. And don't forget to make a note of which ones feature ratings and reviews: You'll want to go back and check those very often.
Tip #6 – Don't Pay Any Money
You should never shell out to have your business listing corrected. A lot of sites will try to fool you into thinking you have to pay for access to your information, but the truth is that if they don't have accurate content, users will stop visiting their website. In the end, they should want your listing to be accurate every bit as much as you do. It may take some searching, but there will be a link to a place where you can verify your ownership and apply to have the listing fixed for free. Patience is the key here.
Tip #7 – Go Big, Then Go Local
Start checking and correcting your information on the biggest websites first. Make sure your information is correct on your Facebook and Google+ pages first. If you think you don't have a Google+ page for your business, you may be surprised to find out that Google has already made one for you. Use it!
Next, hit the major search engines: Google, Bing, and Yahoo!. Make sure the search engines listings are correct. Try searching for your business to see what comes up on the first few pages, and fix any inconsistencies in those listings. Make your next visit to websites for any local newspapers, online magazines, the Chamber of Commerce, and events in which your business participated or sponsored. Check any and every local website where your business possibly could be mentioned and leave no stone unturned. Remember, one bad address or phone number can proliferate onto different websites, so that great write-up in the local online guide can actually cause a lot of problems down the road if your address or business name is wrong.
When you spot incorrect listings for your business on the web, it's a real eye-opener as to the lengths potential customers have to go to find your business. The problem is, if you don't look for those bad listings, it is doubtful you will even know they are out there. It hurts to think of all the business you could be losing …