For those of us who are a bit older, our childhood was filled with afternoons riding bikes with friends, weekends at the beach with our family, and evenings barbecuing out on the patio with our parents. Life was pretty simple back then and we didn't have to pay much attention to what was on the news or worry much about events outside of our homes. Once we reached our teen years, we might have learned a bit about environmental issues and local politics through school classes and dinner-time conversations, but neither seemed to have a direct bearing on our immediate lives.
Times have changed since then, and our younger generations are thankfully much more in tune with the happenings of the world. One of these inquisitive and concerned young minds is our newest local celebrity, Miles Fetherson-Resch, a young man who is making his mark on the world at just shy of 7 years old, and saving our beaches, one straw at a time!
Last summer, while Miles was watching Shark Week, he felt an urgency to help keep the sharks he saw on the screen safe, and asked his mother if he could donate his allowance to do just that. Both his parents were supportive of this idea, but encouraged him to think outside the box. Libby, a marine biologist, and Jess, a Senior Analyst at Healthesystems LLC, discussed the possibilities with Miles, but both were adamant that it remained fun for the young man. They settled on quite an amazing goal: to create Kids Saving Oceans, the first conservation lifestyle brand for kids (and adult allies), by kids.
Since they consider Miles the "ideas guy", he pitched the idea that this lifestyle brand would offer t-shirts, hats, and stickers for kids and their adult allies, all made with recyclable materials and ocean plastics. All the proceeds would support ocean conservation work being done by some great organizations dealing with a myriad of important issues. The Kids Saving Oceans brand could do so much more good on a scalable level than a single donation could ever do.
Once the website was built and products chosen, they began to get the word out. Not only has Miles spoken in front of his school, but he's also presented during the St. Petersburg City Council in support of banning straws, and he has been interviewed on multiple news channels and local websites and blogs, as well as the local 1 Million Cups entrepreneur event held weekly at the St. Pete Greenhouse. He even met one of his inspirations in Sylvia Earle, an American marine biologist, explorer, author, and lecturer, asking her what kids could do to help save the oceans. While there were a number of suggestions, the biggest one that he's already doing is promoting the educational aspects of conservancy, as well as recruiting his peers and other adults to join the good fight.
Mile and his parents understand that educating the younger generation is key to achieving their goals, and they walk the walk by participating in organized beach clean ups or pick up trash on their own while taking a stroll along the shore. As Miles likes to remind us, it only takes a second to pick up trash and keep it out of the oceans, and everyone can do their part to change history.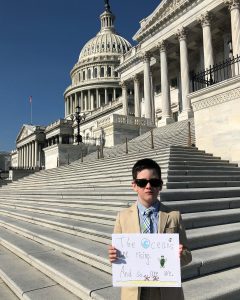 If you thought that was more than enough for a first grader, things are just getting started. This week he traveled to Washington, D.C., and spoke with Capitol Hill politicians and staffers, including the House Select Committee on the Climate Crisis about how our ocean health impacts climate and what they could do to help. Next week, he is meeting with the local group Keep Pinellas Beautiful to hopefully create a partnership that will allow for more opportunity not only for Kids Saving Oceans, but also the residents and business owners of St. Petersburg.
Miles is striving for all of us to use less plastics in our daily lives, and hopes to raise awareness even further among his peers. He's excited when his classmates show enthusiasm on this topic, proving that he's not the only one who cares deeply about conservation and protecting our oceans.
It seems that despite the modern day environmental challenges we face, Miles has found a productive and inspirational path forward. He still finds time to enjoy life like any typical kid, and he's always up for a slice of pizza and catching a movie (his current favorite is Aladdin!). With the support of his amazing parents, he is moving forward courageously and joyously into his bright future.
For more information on Kids Saving Oceans or to purchase their products, be sure to check out their website and Instagram account.