Internet marketing means many things to many people. Whether it is search engine optimization (SEO), pay-per-click (PPC) advertising, trackable social media posts, email marketing campaigns, trackable 800 numbers, or making sense of your analytics, our staff of digital marketing experts will work with you to tailor the best combination of web marketing tools for your business and elevate you to a better position for tomorrow. No matter what size business you own or manage, a well-planned and executed internet marketing strategy is a requirement to compete seriously in today's web-centric world.
Inbound Marketing
When most people think of marketing, they think of traditional "outbound" marketing where a business advertises its products and services to an extremely broad audience hoping to reach the select few who would be interested in what the business has to offer.
Thanks in part to social media and Internet technology, inbound marketing is now a much more affordable and effective way to reach that precise target of consumers who are actually looking for your products and services. How does inbound marketing work? You give your audience something (like an impelling blog or an informative video), rather than ask them for something (like an ad prompting them to buy). By doing this, your customers will actually come to you!
At Blink;Tech, we specialize in content-driven inbound marketing and can target the key demographic that is your ideal customer. An ideal marketing strategy focuses on inbound strategies, but includes a degree of outbound marketing as well.
The Importance Of Analytics
Good analytics is the foundation of every successful internet marketing endeavor. This data not only helps assess the effectiveness of particular marketing and social media campaigns, but can also help identify new opportunities in the marketplace and offer valuable data for tweaking your SEM (Search Engine Marketing) and your website's SEO (Search Engine Optimization). The Blink;Tech marketing team takes analytics seriously employing the latest in Data Visualization practices to offer you a clearer, more meaningful view of your website traffic and the effectiveness of your marketing and social media campaigns.
If you you would like to know more about how web analytics can intensify your existing in-house marketing efforts, please contact us for a consultation.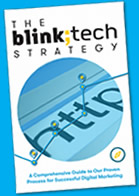 A COMPREHENSIVE GUIDE TO OUR PROVEN PROCESS FOR SUCCESSFUL DIGITAL MARKETING