In case you had somehow missed hearing about it, Google made a major change to one of their main search algorithms this past April. Google makes changes to these algorithms all the time, but what was unprecedented about the April change was that Google announced its motivation ahead of time: mobile-friendliness.
"Starting April 21, we will be expanding our use of mobile-friendliness as a ranking signal. This change will affect mobile searches in all languages worldwide and will have a significant impact in our search results. Consequently, users will find it easier to get relevant, high quality search results that are optimized for their devices.
Because we have been building mobile-friendly sites with responsive web design for our clients for years, the algorithm change wasn't a worry for us here at Blink;Tech. Around the web, however, panic set in as everyone with websites that were not mobile-friendly finally had to face the fact that mobile access to the web now rivals (and often overtakes) desktop. From that panic was born the "Mobilegeddon" moniker for the April 21 algorithm change.
But here we are, six months after Mobilegeddon, and all the buzz seems to have died down. Just how badly did the algorithm shake up search results? Was Mobilegeddon just hype? We wanted to know.
Buzz from the Web
There seems to be general consensus on the web that Mobilegeddon wasn't as devastating as expected; however, significant changes in search results were clearly attributable to the Mobilegeddon algorithm change.
BrightEdge, an SEO tool company, tracked over 20,000 websites and determined that after the algorithm change, there was a 21% decrease in the amount of non-mobile-friendly websites on the first three pages of Google search results.
Another interesting study by Stone Temple Consulting tracked a set of websites that ranked in the top ten of search results for a specific set of search terms from April 17 to May 18. At the end of the study, they found that nearly half of the non-mobile-friendly websites had dropped in ranking, and the number of these sites that dropped in the ranks was 2.3 times the number of non-mobile-friendly sites that climbed.
Our Own Findings
First of all, I'd like to make it clear that there is a bit of a Schrödinger's cat scenario when it comes to evaluating a search engine algorithm change by looking at the search engine result pages (SERPS) from a relatively small number of websites. A limited perspective skews results.
But there is another approach to evaluating the algorithm change, and that is to look at the actual traffic stats from a website that provides a perfect case study for the effects of an algorithm change directed at mobile-friendliness. In our case, the vast majority of clients we work with all had mobile-friendly sites long before Mobilegeddon, so we looked at a case in which a client clearly benefited from having a mobile-friendly website — because the majority of his competition did not.
Out with the Old, In with the New
Back in late 2013, a client came to Blink;Tech with the dream of starting a niche luxury tourism company. He needed a website that could compete with other companies that had been established on the web in this very specific business for many years. This is a very challenging scenario for any web-based startup, but we knew the majority of the competition had one big weakness: outdated websites.
Before the Mobilegeddon algorithm change, only three out of the client's top ten competitors had mobile-friendly sites. (As of this writing, this is now four out of ten). Because of the proliferation of mobile web, we knew that even if Google never changed their algorithm to promote mobile-friendliness, our client would benefit from having a much better user experience than the competition. And because this was a low traffic/high dollar business, every click and every positive user experience was extremely valuable. Potential customers trying to navigate his competitors' web pages on a mobile device would be frustrated — a frustration they would not experience on our client's site. And this strategy was slowly paying off, until Mobilegeddon came along and gave our client a huge boost:

You can see from the above traffic stats that there was a spectacular increase after the April 21 algorithm update. Our client is now firmly entrenched in the top ten of his industry and moving up quickly.
I want to reiterate that this is a special case. In another industry where the majority of the competition have mobile-friendly websites, the Mobilegeddon algorithm change would not have shaken things up so much — unless, of course, you were the owner of a non-mobile-friendly website.
When working with clients, Blink;Tech always focuses on the long game. In order to do this, it means staying ahead of upcoming changes in technology and the social web. Regardless of Mobilegeddon, your website needs to be mobile-friendly. We just can't stress this enough. If you lose mobile search traffic, your overall traffic will go down, which will clearly have an eventual impact on your desktop traffic. If fewer people visit your website, Google will consider your site less relevant to users. Consider it a feedback loop that you don't want your website caught in.
To get a clearer picture of why mobile-friendliness is important, let's look at some different traffic stats from this same client.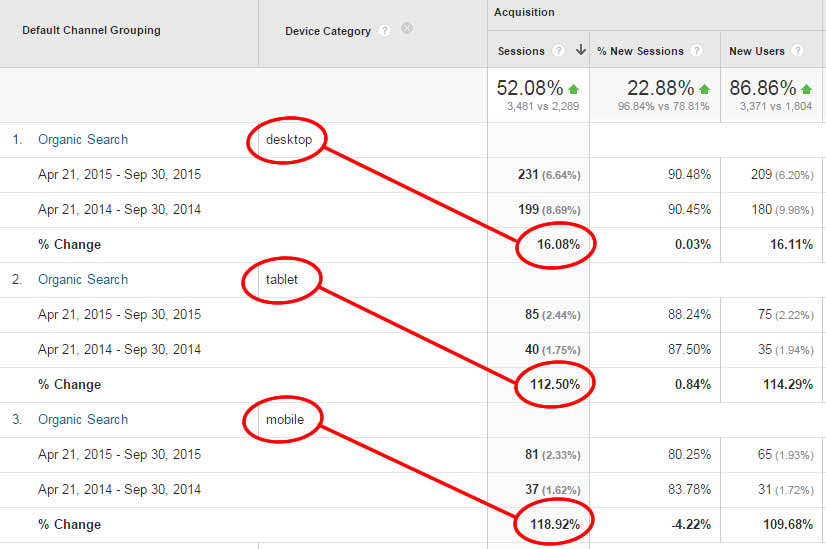 Comparing this year to last for the month following April 21, you can see a tremendous increase in organic search traffic coming from mobile and tablet — over a 100% increase for both, when desktop only saw a 16% increase. It would be impossible to determine exact ratios without knowing the secrets behind Google's search algorithms, but there are three factors at work here: an increase in people accessing the web through mobile devices, an increase of traffic due to the Mobilegeddon algorithm change, and an overall increase in search visibility in other algorithms due to the traffic increase of the first two factors.
To sum it all up, if we were to evaluate the importance of Mobilegeddon, we would have to say that it is far more than an algorithm change that took place on one day in April. Mobilegeddon has been coming at us for years and will continue to grow in importance. Are you fully prepared?