This is the ninth installment of a blog series we're calling "Sarasota Sizzle." What's "sizzle," you ask? The Blink;Tech team's definition of "sizzle" is what happens at the local intersection of creativity, technology, and entrepreneurship. The more we look around us in Sarasota, the more we discover people, businesses, projects, and initiatives that "sizzle." And when something sizzles, it's too good not to share.
Celebrating its one-year anniversary in a new space, the Faulhaber Fabrication Laboratory fills a huge void in our educational system, offering hands-on learning that doesn't happen often enough in the age of standardized testing.
Ten years ago, Micromo Motors (a Clearwater-based company specializing in motors for robotics, space travel, and more) was unable to find qualified engineers to hire. In answer to the local dearth of engineering experience, Micromo founders Fritz and Ping Faulhaber started a science lending library in the counties of Pinellas and Hillsborough. Upon moving to Sarasota, the Faulhabers noticed the local science curriculum also lacked in hands-on learning projects, so they started a lending library here as well.
The "Fab Lab" offers 45 individual kits with a number of learning tools and instructional focus guides. Through a partnership with Sarasota County Schools, the Fab Lab allows teachers to see what kits are available for what they plan to teach based on Sarasota County's curriculum, empowering students to learn by seeing and doing instead of merely reading.
Yet the lending library is just one aspect of the Fab Lab. In its educational outreach program, Fab Lab staff lead supplemental classes that give students deeper insight into each kit and the scientific principles contained therein. However, the Fab Lab is probably best-known for the facility itself.
After donating equipment for a fabrication laboratory at the now-defunct Gulfcoast Wonder and Imagination Zone (G.WIZ) many years ago, the Faulhabers bought back the equipment and refocused their endeavor when the museum closed in 2013. Moving into its second year as part of the Suncoast Science Center (located at 4452 S. Beneva Rd.), the Fab Lab works kind of like a gym for scientists. Members pay a membership fee for the opportunity to use the tools in the lab to create whatever they want.
However, the Fab Lab's tools are a bit more complicated than, say, a stationary bike. In order to use most of the machines, you must first take a class. While many people may feel quite adept at using one of the lab's lathes or the bandsaw, using a computer-operated 3-D printer comes with a steeper learning curve. Fortunately, learning is what it's all about at the Fab Lab.
While giving me a tour of the facility, Ping Faulhaber commented on how the space allows different generations to share knowledge.
"We have an adult building his own mahogany boat and a teenager building his own drone, and they're learning from one another. It's magical."
Members must be at least 12 years old, but the Fab Lab also offers special classes for younger kids. The summer program even includes a class for children to build their own remote-controlled cars, with the ability to change anything about the car except the engine. Using the laser cutter to build a lighter chassis and the 3-D printer to fabricate better wheels, young "makers" can experiment with all sorts of ways to make their cars the fastest, most responsive, or best designed.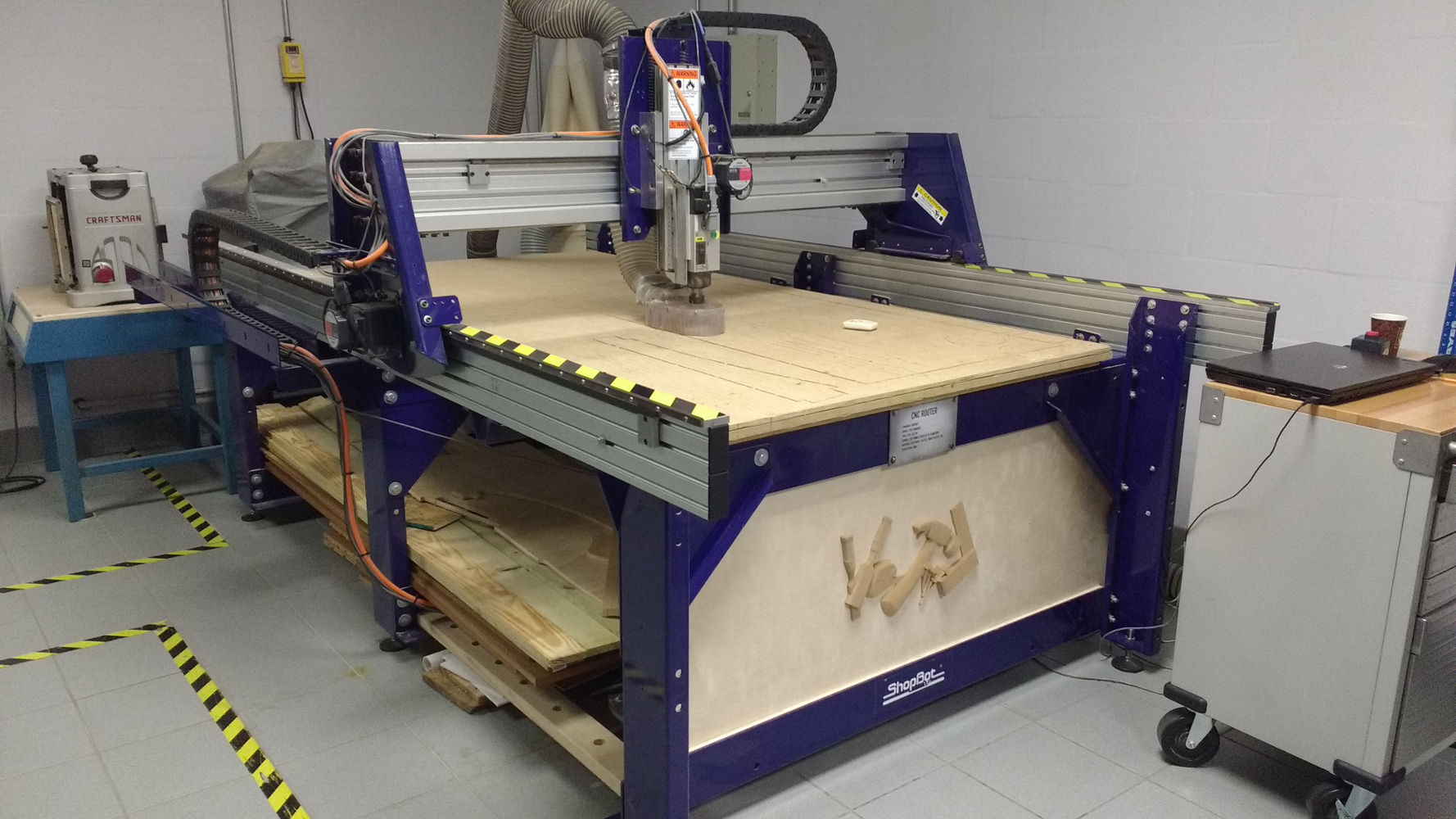 The Fab Lab also just received a large laser cutter capable of slicing steel; with a computer numerical control router (pictured above), mill, and foam cutter, one could turn pretty much any computer-designed object into a real product. The lab even has an embroidery machine, a vinyl cutter for making stickers, and a heat press to print custom T-shirts.
The Fab Lab offers free tours of the facility every Thursday at 5 p.m. and Saturday at 1 p.m., so newcomers can see what kind of machines they'll need for their dream projects. Memberships are $75/month for adults and $35/month for students. If you want to invent the next big thing, the Faulhaber Fab Lab is a great local resource for manifesting your vision.
At Blink;Tech, we synthesize cutting-edge web development with creative Internet marketing strategies to help businesses of all sizes and industries succeed on the web. Talk to us today about how we can make your business, project, or idea sizzle.